Column aquariums are a truly unique tank design. With the ability to completely transform the entire atmosphere of a room, they are becoming an increasingly popular option for aquarium rentals in offices, foyers and waiting rooms. But that's not where the benefits of this type of aquarium end. The incredible appeal of aquariums has broadened its scope over the last decade or so, from a society where adding a fish tank to a classroom would immediately trigger the belief that it would serve more of a distraction that anything else. But more recently we are coming to the understanding that to "look outside of the box" can change our views on many hidden benefits that aquarium-keeping can bring to a classroom full of students.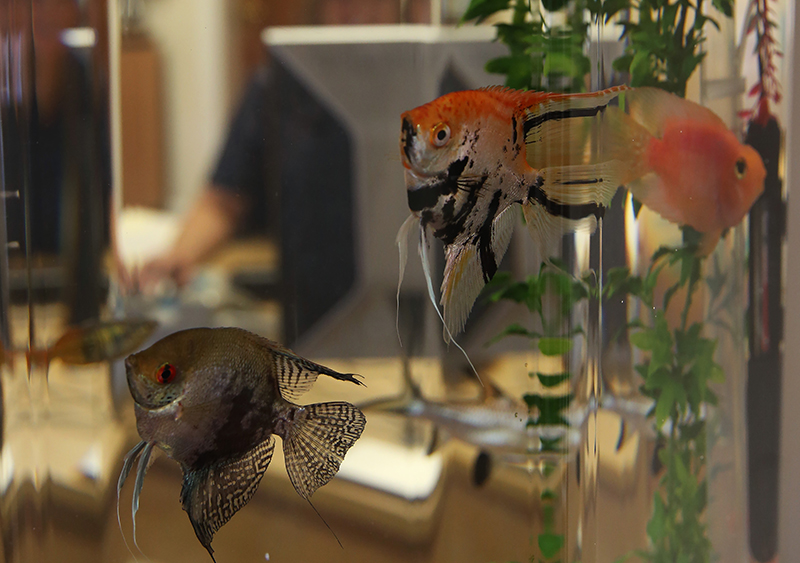 Yes, an aquarium is beautiful. Yes, it is relaxing to the eye. But when we install our sophisticated designs into the classrooms of schools up and down the country – we're not just promising those two factors alone! To relax is not just to say that an individual will sit in a transfixed position, gazing into the depths of a bubbling aquarium and getting zero work done! Relaxation comes with many additional longer lasting benefits such as the ability to maintain concentration for extended periods of time after a session of relaxation – so you can almost say that our aquarium installations inside classrooms are more of a clever therapy technique! What's more – we all know that concentration for longer periods bring bigger and better academic results. Some children have the ability to sustain periods of concentration better than others, but for those with a shorter concentration span – an aquarium could surely act as a leverage towards achieving higher expectations? That's what we and the Sacred Hearts RC Primary School agreed on when we went over there to install a recent fish tank hire just last month. We wanted to share some of the fantastic results that our Column aquarium rental brought to the school.
So why the 6ft base Column aquarium, you ask? Over the years we have seen top-selling brands evolve into masters of the aquatic world. Defining perfection with specialties such as the Red Sea Reefer aquariums with their stylish cabinet and comprehensive water management system, to the likes of Juwel with their sensational Vision range – a representation of remarkable imagination and creativity. But there is something quite special about the Octagon-styled Column range of aquariums. Like no other, the Column tank stands on its own as a bold creation. An Avant garde design that evokes a rare sophistication via its stunning aesthetic alone. That's not to say that Column aquariums don't hold their own when it comes to integrating a selection of professional heating, filtration and lighting equipment into its design. With top-of-the-market TetraTec APS Airpump, the Maxi-Jet 900 Powerhead for optimum gas exchange, the Newa 300w Visitherm for ideal heating conditions and LEDDY SMART energy-efficient lighting, successful fish-keeping is a walk in the park for a classroom of children. The tank with a strong contemporary edge is developed with functionality and style at the forefront of the design. Embedded within its crisp angles and ultra-modern profile is a safe acrylic viewing panel from top to bottom. Its innovative octagon shape allows for 360˚ viewing and can be fixed to the wall with fitted safety brackets.
As with so many of our classroom aquarium installations, the 6ft Base Column tank served as a hands-on teaching tool, allowing the students to learn directly through practical experience. Learning how to care for a community of fish not only ignites a passion and a natural enthusiasm for underwater species and their innate behavior, but unfolds a nurturing instinct that will serve as a long-term attribute to be carried through to adult life. Gaining responsibility brings reward and achievement – all of which are considered highly important factors in a child's development throughout their schooling years.
Our 6ft Base Column aquarium for hire brought numerous advantageous attributes to Sacred Hearts RC Primary School. Aquariums act as a display cabinet for some truly wonderful underwater species, but will also function as a lens through to a perfectly operating ecosystem bursting with vivid colour and activity.  Upon installing the Column aquarium at the school, the children were particularly keen to explore the many different coldwater fish species provided within the rental. Shabunkin Goldfish with their stunning Calico costumes. Comets with their fiery red and orange coats and feathery white tails and sunny Yellow goldfish! Learning the values of aquarium-keeping also serves as an effective technique at bringing children together to work as a team. Minimal cleaning, however small, still maintains a sense of discipline for students who can take advantage of the opportunity to learn how this benefits a community of fish and their environment as a whole.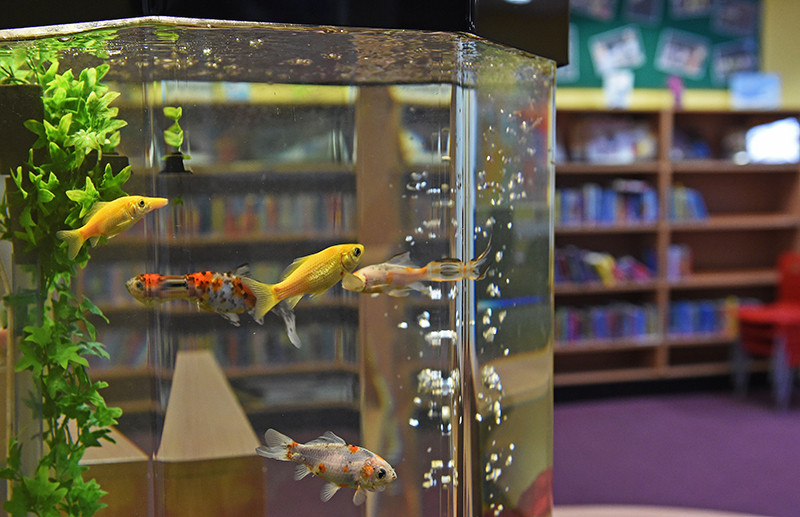 Overall, choosing an aquarium to hire within a school whether that be in the classroom, a foyer, a canteen or reading room, is a fantastic way to bring students together. Whilst sharing ideas and working as a team, many projects can be brought into everyday classroom learning and can offer ideal schemes for prefects during term time as well as offering an insight into more complex topics such as water cycles, nitrogen cycles and the food chain. For more information on our incredible aquarium hire for schools, please do contact us.