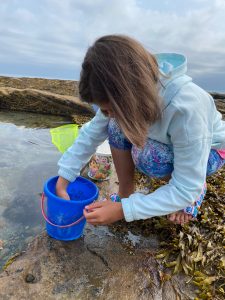 For our Marine Rangers and Service Technicians, aquatic life is more than a job – it is a passion!
One of our Aqualease families recently enjoyed a visit to the beach during their week off and had lots of fun exploring the British coastline!
The children had a great time finding all sorts of weird and wonderful creatures, and as grown ups, we all know what a difference that sea air can make!
It just goes to show what amazing views and activities are right on our doorstep.
If you visit any of our UK beaches this summer, we would love to see what you get up to and any creatures you find!  Send your pictures to admin@aqualease.co.uk or tag us in on our socials!
It goes without saying to please always put live creatures back where you find them. 💙
If your school is as passionate about sealife as we are, did you know we can bring a rock pool to the classroom?  Find out more here!