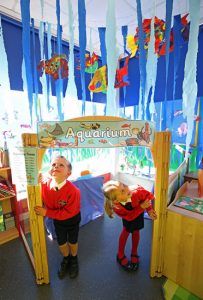 As the saying goes 'A blue mind is a creative mind.'  It has long been known that being by water or immersed in water has a calming effect on our bodies.  It helps us to relax, re-energise, improve our mental wellbeing and sleep quality too.
However, looking out onto water, whether that be a lake, river, pond or ocean allows our brain a cognitive break.  There is much less information coming in and we are in a calmer, creative and more relaxed state.  We can let our thoughts wander and daydream and without realising, our imagination begins to flow.
For over three years now, Aqualease have been providing coral reef aquarium projects for the classroom.  As well as linking in with curriculum subjects such as science, geography and maths, teaching staff have used the aquarium as a key tool in literacy.  To support children's reading, writing and listening skills, unlocking a child's creativity and imagination.
What can be more exciting than dressing up and being pirates for the day!  To write a diary of your maiden voyage and explore how you are feeling, what can you see? What is the weather like? What is life like on board the ship?  Children can also create poems, incorporating a range of ideas, including; aquarium animals, life under the sea, weather at sea.
How about going on a journey to the abyss in a submarine.  What can you see? Have you discovered any new species? How are you feeling? This is a great opportunity to link in with teaching recount writing.
The list is endless, all of this from a coral reef aquarium that not only acts as a catalyst for ideas but also improves mental wellbeing too.  Not just a pretty face!
Interested in our school aquariums? If so, please contact Aqualease today on 0300 3033145, or email us at info@aqualease.co.uk, and we will be more than happy to help.